When you buy a piece of heavy machinery you know there is extreme engineering that goes into building the product. As the manufacturer of Terramac, we know the ins and outs of every aspect of our RT9 unit, and even have a product specialist whose sole responsibility is to work on, learn and excel at understanding the Terramac RT9 and how different environments affect the components. We have a handle on each one of these components so we can accurately assist you, our customers every time.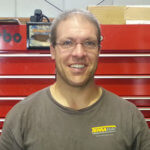 Matt Herzig (JR) is our mastermind product specialist that's been with the company since the RT9's early days. Fortunately, I was able to snag a few moments with JR earlier this week to discuss what he feels are the top 10 tips every customer and operator should know about the RT9. Below are his tips as well as a useful RT9 walk around video for your reference.
Get To Know Your Dash – Believe it or not, those lights on your dashboard are there for a reason. They provide you with pertinent operation, system, and engine information. Learn what each indicator means prior to operating in order to protect both your crawler carrier and personal safety.
Keep It Clean With Compressed Air – Moisture combined with a dusty environment is a natural breeding ground for clogged filters, and unfortunately, both are unavoidable while working outside. Use compressed air to keep the radiator, hydraulic and charge air coolers clean, and prevent the RT9 from overheating.
Automatic Downshift Has You Covered – Some things you just need to get used to! Terramac built the RT9 with an automatic downshift feature so you don't have to slow down. The track drive motor will automatically downshift while you're turning and return to high speed as soon as you are going straight again. Practice and just enjoy this feature.
Carrier Maintenance Is Key – The Terramac RT9's are beautiful units so don't run them into the ground by forgetting to keep up with regular maintenance. Check fluids, inspect the carrier for visible issues, and keep the unit free of debris that can damage the tracks. Having a proactive approach can save a lot of time and money in the long run.
Fuel Up – It's tempting to wait until the last minute to fill your tank, but by doing so you risk "starving" the RT9's filter which can cause a crank-no-start condition. The good news is if you do accidentally wait until the last minute you can use the primer pump on the fuel filter housing (located in the doghouse) after fueling which will usually get your Terramac back up and running. Eliminate the doubt by simply filling up before you run out!
Service Is Simple – Ease of service is Terramac's best feature. Terramac units are built with tilt hoods for accessible engine maintenance, a dog house for quick fluid checks, and sight-level glass and restriction gauges for proper fills. You have NO EXCUSES so be sure to follow your operator's manual for service recommendations.
Understand Operating Angles – Terramac's are intended for use on a variety of terrains, but that doesn't discount the fact there are still specified operating angle limits in place to protect the machine. Pushing any type of equipment past its recommended limits can increase the likelihood for mechanical complications. That is why JR recommends getting to know the extreme angles the RT9 is capable of conquering so you are prepared to work accordingly when you encounter rugged terrain. There is no doubt this unit will take you further than you've been before so learning your new limits will ease the transition for both operator and RT9 unit.
Be Aware of Track Tension – Track over tension is a common operator mishap JR has seen over and over again. This causes unnecessary wear and tear which also increases the carrier's operating costs. Check that you've followed proper tension procedure and track sag before getting started.
Follow Operating Manual Recommendations – This sounds like a no-brainer, but you'd be surprised how many people choose to bypass the operator's manual.  The Terramac manual is extensive, but most of all, worth the read! It provides operators recommendations for every aspect of the unit in order to maximize your Terramac RT9's life.
Remember You Have Support – When you're stuck in a bind or have a question regarding your Terramac, give us a call at 630.365.4800. The entire Terramac team is here to guide you, and ensure that you have only the best experience while using an RT9.
Please keep in mind that these are simply user-friendly tips for customers and operators, and do not discount the need to read and review the Terramac owner's manual prior to operating the RT9 unit.