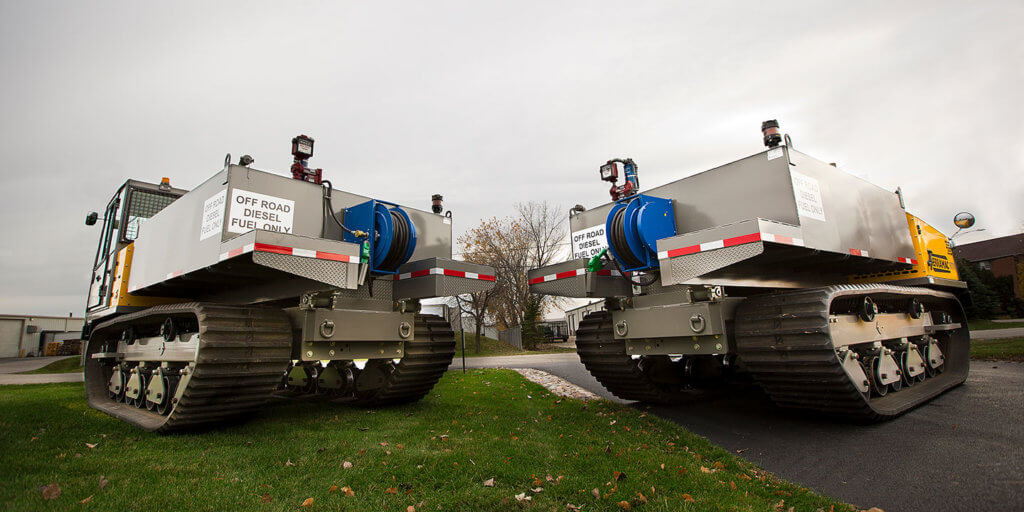 Just a few weeks ago Terramac was sought out by a company looking for a way to transport their fuel to a remote location in Nigeria. Building an airport in the marsh lands proved to be an issue when it came time to fueling their onsite equipment. Remote locations often times inhibit the ability for standard construction equipment to gain access, and can become a major problem. Lack of fuel will bring any project to a quick halt if fuel powered equipment is being used. So how does one come up with a solution?
It's simple, you call Terramac. Terramac manufactures the RT9 rubber tracked crawler carrier unit that is built to go through all kinds of terrain, and is noted for its versatility in attachment features. So it was no surprise that Terramac would be able to help this company. The only question that truly remained was which type of attachment feature would best suit their needs?
As a progressive and innovative manufacturer, Terramac learns a thing or two about their crawler carrier's superior abilities with every unique customer inquiry regarding a particular job site need. The solution for this particular customer, was mounting of two fuel tanks to the back of each of two Terramac RT9 crawler carrier units. Each tank placed on the RT9 crawler carrier was 1600 gallons and would provide enough fuel for all the onsite equipment at the airports remote location so that an efficient work flow could be created for the project. The solution was as simple as adding an attachment to an already existing unit. No recreating the wheel necessary, just an adjustment really.
This is not the first company to come to Terramac with a unique problem, and discovering the unsurpassed versatility of the Terramac RT9 unit. The kind of versatility offered by Terramac® is becoming a wide spread final deciding factor between the RT9 unit and its competitors. Terramac has had a number of opportunities to test out new combinations of attachments for the RT9 unit throughout the year, and the end result has been nothing but successful.
Next time your company has a unique problem to solve, call Terramac at 630.365.4800 and learn the benefits of using the most innovative crawler carrier on the market that can be customized to your needs.