Traversing rocky and rugged terrains with steep inclines is an everyday activity for Cedar Creek Corporation, a limited access contractor focused on utility power line transmission and distribution.  Conducting their work in the field requires heavy equipment specifically designed for remote access and utility construction without sacrificing safety. Having tried a variety of equipment options with limited success, Cedar Creek Corporation was thoroughly impressed by the discovery of Terramac carriers. Soon after seeing them in operation, Cedar Creek Corporation began adding Terramac's utility models to their fleet which have proven to increase their productivity.
"The Terramac's have been an incredible addition to our equipment fleet", declares Gary Gove, Officer at Cedar Creek Corporation. "The rubber tracks give us the reliability for accessing difficult jobsites while their chassis are legitimately designed to accommodate the same utility attachments found on more common truck builds."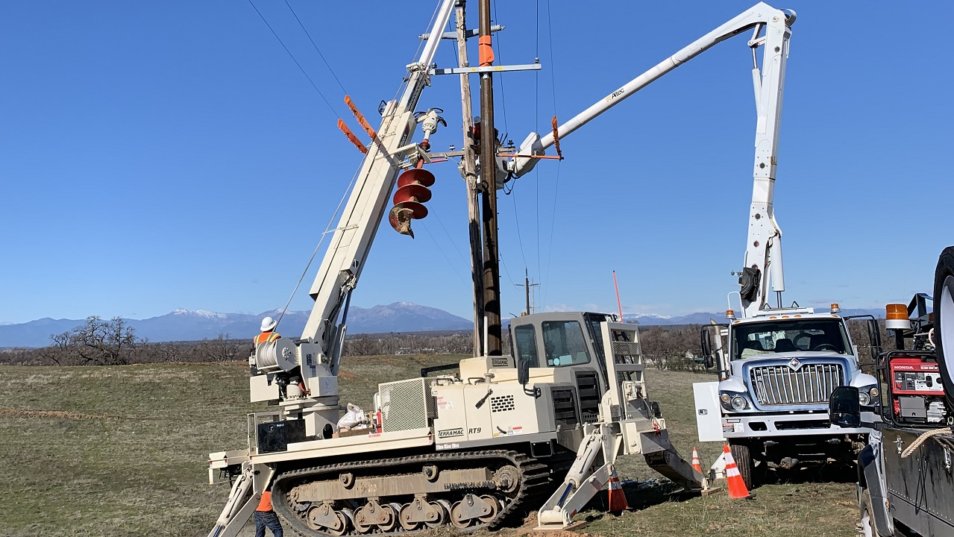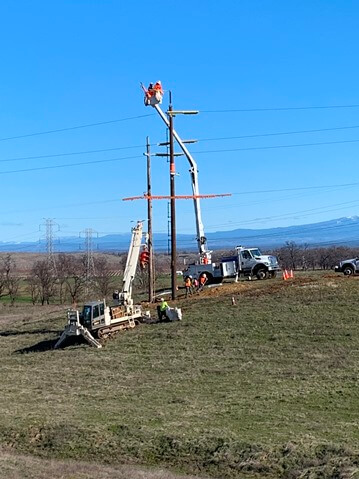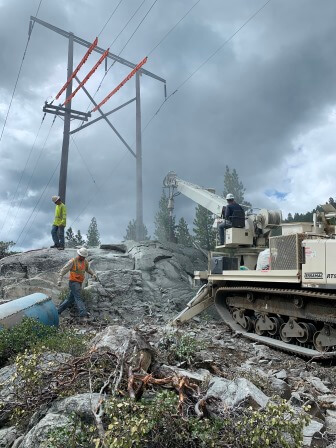 Dedicated to innovation, Terramac designed their chassis to allow for complete customization. Support equipment that contractors would typically mount to a wheeled vehicle can easily be mounted to a Terramac rubber tracked carrier. Terramac also works vigorously with utility equipment manufacturers for each new track mounted configuration. The collaboration ensures the builds are safe, functional and meets the customers' expectations.
"There are a lot of off-brand manufacturers out there that promote limited access utility equipment, but those units tend to be built in-house, rarely meeting standard industry specifications or holding up in the field," says Gove.
Cedar Creek Corporation's initial purchase included a Terramac RT9U with Terex 6060 digger derrick and a Terramac RT14 with Sullair 1600H compressor. Both units were used to replace and install new utility poles on Donners Summit in California. The location's rough terrain makes it a popular spot for rock climbing enthusiasts, but a dreaded jobsite for utility installation and repair.
"Most of the poles we set had to be placed into large boulders which required us to dig into the rock. We attached a massive rock hammer to the digger derrick and powered it off the air compressor which allowed us to drill a 36" hole, 12' deep in about two hours," exclaims Gove. "For limited access work, that's a heck of a feat."
Instantly feeling the benefits of increased productivity and efficiency, Cedar Creek rented four additional Terramac units to wrap up the project and is awaiting Spring 2021 delivery of two more Terramac RT6U units both with Terex 4047 digger derricks for their fleet.
"When we get into jobsites like Donners Summit where the elevation is approximately 7,500-ft., we have a limited window to get our work done before the weather prohibits access so we frequently rely on rentals to supplement our fleet," explains Gove. "Terramac made it incredibly convenient for us to access the additional equipment locally and offered service support which we never had to utilize since the carriers performed beyond our expectations."
Terramac prides itself on providing local access to equipment, parts, service and more through their expansive dealer network as well as strong partnerships with rental houses across the country. Branch locations are fully trained on the product line, stocked with parts, and eager to assist customers looking to grow and improve their productivity in the remote utility market. Standing firmly behind their products, Terramac also warranties their carriers to give contractors the peace of mind they deserve.
"For us, we use this equipment daily in some of the most remote locations so it's imperative they hold up. Terramac carriers are heavy-duty in all the right spots which allow us to keep our focus off the equipment itself and on the utility work we're here for," reiterates Gove.