It's always exciting when Terramac delivers a solution to fulfill a customer's need. It's even more thrilling when we see these stories shared online or in printed publications. It was an honor to see a custom Terramac RT9 crawler carrier selected as a story within the Operating Strategies section of the Engineering and Mining Journal (E&MJ) seeing that the reputable magazine is a leading favorite within the mining industry.
In case you're not familiar with E&MJ, each month their editors give readers around the world the most up-to-date technical and economic information in the metal and non-metallic mining industry. You will find interesting stories about some of the largest mining projects as well as featured equipment that helps mining operations overcome the challenges they face. Recently a custom Terramac RT9 crawler carrier with spray boom was highlighted.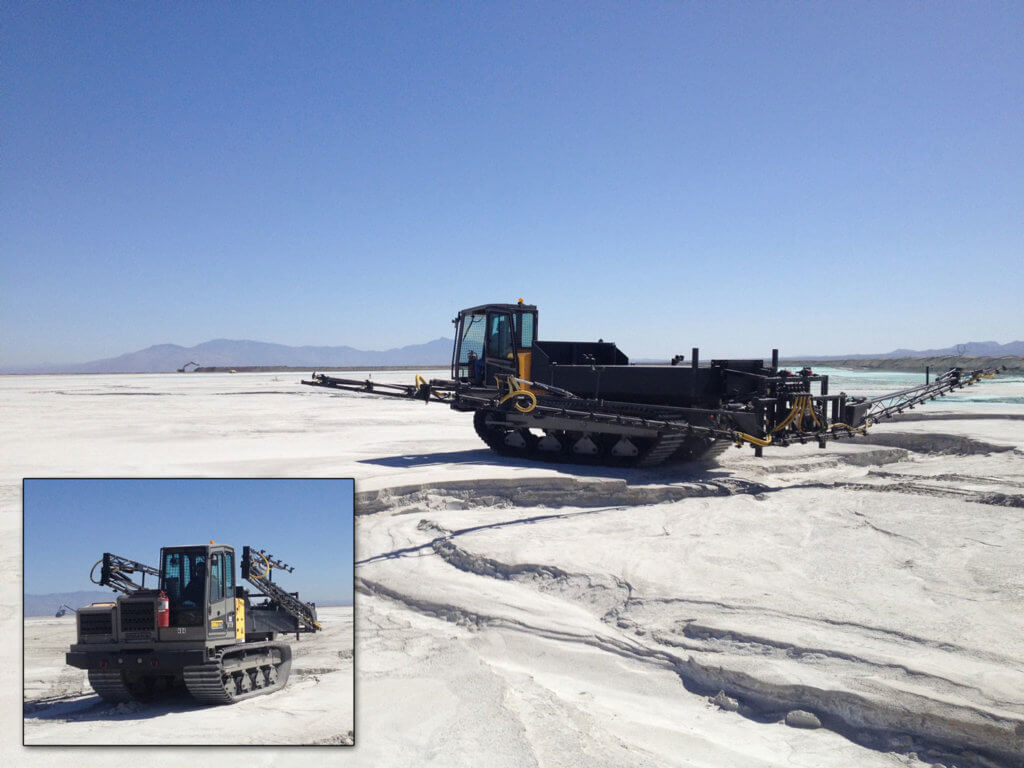 If you have a copy of the November issue sitting on your desk flip to page 134 to learn more or read the overview below.
Asarco Uses Terramac RT9 in Tailings Ponds for Dust Control
Copper producer, Asarco is the first mining company to use a Terramac RT9 rubber track crawler carrier. Asarco custom-ordered the crawler carrier mounted with a 60-foot Precision Industries spray boom. Spraying a continuous mist of magnesium chloride and water mixture, the crawler carrier mounted boom is being used for dust control that results from high heat and wind at the tailings storage facilities of its Mission Complex in Arizona.
The Terramac RT9 has proven to be a superior choice for Asarco. While mine roads are typically kept damp by spraying them with water trucks, the heavy, wheeled trucks become bogged down or get stuck completely in the loose and wet ground conditions at the tailings storage areas. The low ground pressure (5.1 PSI) of the Terramac RT9 makes it ideal for such conditions and Asarco saw it as an alternative to using wheeled vehicles or contracting spray planes for dust control near the tailings ponds.
Mounted to the RT9, the 60-foot Precision Industries spray boom has a stable, sure-footed platform to work from. The ability to equip the RT9 with a 1,600-gallon tank allows the mine to cut the frequency of refills and corresponding downtime by half.
Spray is set to follow a specific flow rate guided by a GPS unit in a precise coverage pattern. Asarco adds magnesium chloride to the water to keep tailings surface moist for a longer periods of time. This means the mine can spray less often while still achieving the same level of dust control.
The 60-foot spray boom is primarily used in mining applications but can also be used in other industries where it is necessary to keep ground conditions moist.
Watch a Terramac crawler carrier with spray boom in action.
Stay on Top of Mining Industry News
To stay up-to-date on the latest mining news, you may visit the Engineering and Mining Journal website or stay tuned to our blog on a regular basis. If you feel a rubber track crawler carrier would increase production on your job site call Terramac to check on the availability of new crawler carriers for sale or inventory of used crawler carriers for rent. To learn more about how the Terramac RT9 can be customized to provide the solution you've been looking for contact us at 630-365-4800.