Check out the crawler carrier article in the August edition of North American Oil and Gas Pipelines magazine. It features Terramac owner, Mike Crimaldi and the Terramac RT9.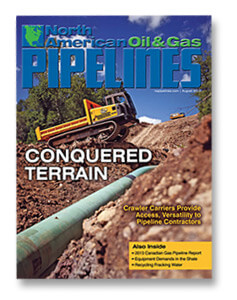 It was Mike Crimaldi's extensive knowledge in the industry along with the phenomenal photographs of the Terramac RT9 crawler carrier taken by Mike Donovan that landed the Terramac on the front cover of North American Oil and Gas Pipelines.
Mr. Crimaldi and Doug Little, the director of sales at another crawler carrier manufacturing company discuss the benefits, uses, and the rapidly growing demand for rubber tracked crawler carriers. Furthermore, Mr. Crimaldi explains how the Terramac RT9 was designed to be customized, and how it caters to not only the pipelines, but numerous other industries.
Below is an excerpt taken from the article in order to get you started. To access the complete article, click on North American Oil and Gas Pipelines, and find out exactly what the Terramac can do for you!
These track-driven multitaskers have been around for decades, but pipeline contractors are starting to find them invaluable tools on the jobsite, according to Mike Crimaldi, president of Rig Source Inc. and Terramac. Crawler carriers were the first choice to carry mats onto project sites to create more stable working environments for larger construction equipment. Their ability to access any terrain made them the ideal tool for such work, but that same quality is now compelling contractors to find other tasks for these machines.
For additional information on the Terramac RT9 crawler carrier, give us a call at 630.365.4800 or email info@terramac.com