Terramac is proud to announce Groff Tractor and Equipment Company to our rapidly growing dealer network.
Groff will now cover the entire state of Pennsylvania and the Eastern part of Ohio for Terramac sales, rentals, service and support.  Providing increased support to customers is top priority for Terramac, and we take a great deal of pride in selecting quality dealers guaranteed to deliver the Terramac promise.
Not only does Groff supply "everything construction," but they've been doing so for over fifty-five years which is an achievement only the finest sales and rental centers can attest to. With the increase in pipeline jobs popping up along the East Coast, Groff saw an increasing need for crawler carriers to be added to their equipment offering, and found Terramac to be exactly what they were looking for.
Groff's Terramac Fleet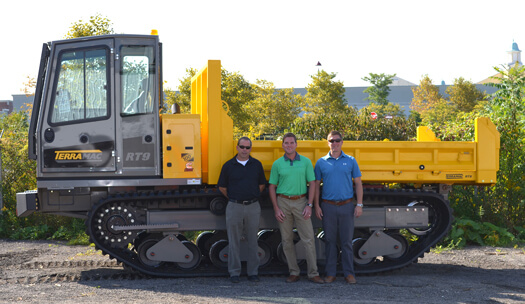 Groff has already added a fleet of RT9 carrier units to their inventory, and have graciously accepted the honor of receiving the 100th RT9 unit produced by Terramac. All Groff's Terramac crawler carrier units have been dispersed among their locations in Mechanicsburg, Ephrata, State College, New Stanton, Cranberry Township, and Ebensburg in Pennsylvania as well as GT & E Rentals in Newcomerstown, Ohio. Groff's team has undergone a complete start up with Terramac which included comprehensive training on the RT9 carrier to ensure the best possible service and support is reaching every Terramac customer every time.
More Support Still To Come
While we are excited to watch Groff's sales and rentals flourish with the addition of Terramac crawler carriers, Terramac is still seeking additional dealers throughout the US, Canada and beyond. Our goal is to make buying and renting Terramac crawler carriers as simple as possible. We understand in order to do this, it is imperative to increase our sales and support services to you through dealers you already know and trust.
If your local equipment supplier isn't already carrying the RT9, give us a call at 630.365.4800, or let us know where you would like to see Terramac products offered. Our team is happy to reach out on your behalf to get you the local dealer of choice so you too can rely on the most innovative crawler carrier on the market – right from your own neighborhood.