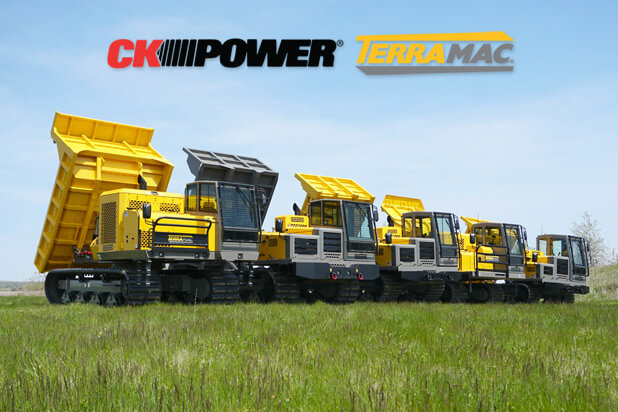 The new year kicked off with exciting news – CK Power acquired Terramac. Over the course of the last six weeks, Terramac has worked closely with CK Power to develop strategic goals for 2021 and beyond that will first and foremost benefit our customers while also growing the business and brand. Together, Terramac and CK Power are committed to the improvement of Terramac products and aim to strengthen and expand partnerships, all while enhancing parts and support services.
Product Improvements
Dedication to product innovation has established Terramac as a leader in the crawler carrier industry, but to maintain this status we understand constant product improvement is required. Under our new ownership there will be a strong focus on product enhancements to meet customer needs and ensure quality control while optimizing parts and manufacturing technology. All improvements will be shared with our customers through marketing channels and the dealer network to ensure end users feel confident when they choose Terramac.
Dealer Development
Terramac is proud to work in partnership with a well-established dealer network that spans the US and Canada to bring customers localized carrier sales, rentals, parts, and service support. With CK Power on our side, we plan to strengthen existing relationships, diversify product offerings, and expand our dealer network in the Western region with the support of CK's leadership.
Parts & Support Services
Headquartered in the US, Terramac is in an advantageous position for providing an unprecedented degree of customer support. Our proximity to dealers and customers allows us to be readily accessible for support and customization requests and ensures quick turn-around on replacement parts. As we look to the future you can expect to see our parts and support services rise to a new level with more streamlined services, enhanced parts programs, and progressive training opportunities. Building out these services in partnership with our dealers will provide customers greater assurance that Terramac carriers are the most trusted carrier brand for off-road work.
From all of us at Terramac, we look forward to working with you and growing together in 2021.