Terramac crawler carriers have simplified tailings pond maintenance for some of the largest copper mines in the United States, and our dust suppression equipment continues to impress mine operators during every startup we organize.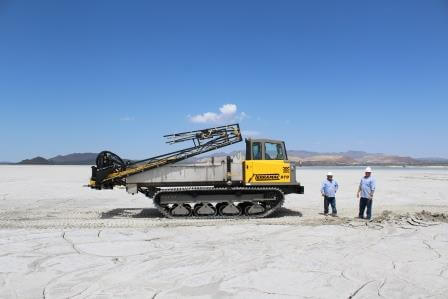 Copper Mine Operators Explore Terramac
Located in Pima County, Arizona, a copper mining operation recently obtained a Terramac RT9 for their copper mine tailings pond dust suppression. The RT9 has been a well-accepted piece of heavy equipment for tailings management, and everyone at the mine was pleased to be picking up our innovative crawler carrier technology. Since the Terramac dust suppression unit was new to this mine location, Terramac sent product specialist, Matthew Herzig out to Arizona to perform an overview of the unit to mine operators. During the startup, Matthew went over all of the RT9's features that set us apart from other crawler carrier brands, instructed the mine's operators on how to use the dust suppression attachment, and discussed safety tips in addition to best practices for service and maintenance.
Tailings ponds have a unique consistency and a toxic chemical balance which requires extraordinary equipment to safely maintain the tailings in accordance with the strict laws set forth for mines. As seen in the photographs from the recent startup, the Terramac RT9 dust suppression unit maneuvers through the tailings with ease because the carrier's rubber tracks disperse the RT9's weight making the overall ground pressure just 5.1psi.
The Terramac crawler carrier can accommodate a 1600 gallon water tank and carries the sixty foot spray boom that distributes a continuous flow of water and magnesium chloride solution to efficiently keep the tailings dust particles at bay. Without this application, extreme heat and winds will stir up the tailings which then pollute the environment. To see video of Terramac's dust suppression spray boom used for tailings pond maintenance, visit and subscribe to Terramac's YouTube channel.
For information on purchasing a custom Terramac crawler carrier with spray boom attachment, or for additional questions regarding the unit's features and capabilities, give Terramac a call at 630.365.4800.