Laying pipe on hillsides or mountainous terrain is essential for pipelines but the process can be disruptive to the landscape and lead to slope failures and slips. These man-made landslides are dangerous if left untreated which is why land restoration is critical at the finale of every pipeline project.
When contractors prepare to lay pipe in the mountains they carve out slopes to create a more manageable and safer work surface for crews and equipment. After installation, the area is refilled with dirt but often lacks the stability it once had which makes it more prone to shifting. When slopes fail and dirt washes out, it jeopardizes the integrity and safety of the pipeline so it requires fast action and quick repair.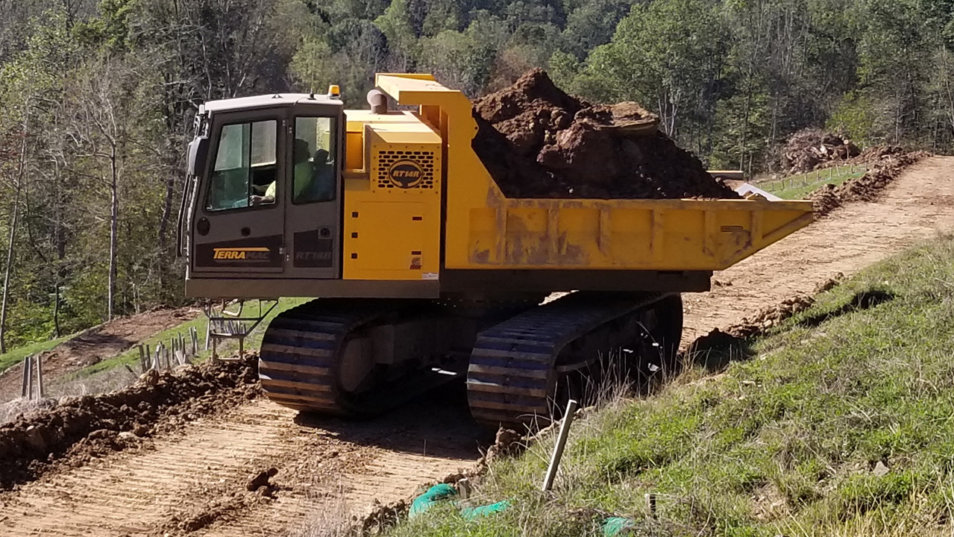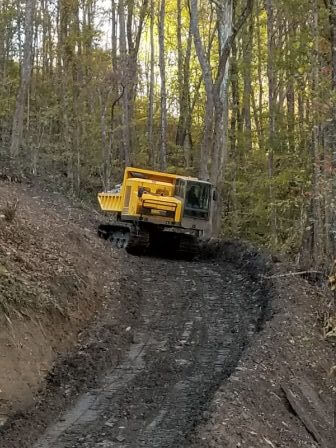 Jett's Slip Repair & Contracting specializes in slip repair and slope stabilization, and is all too familiar with the erosion issues that arise from installing pipe in the Appalachian Mountain region of West Virginia.
"The biggest challenge we face on slip repair projects is the terrain itself. We work on steep mountain sides which aren't easy to reach or navigate so we rely on and put a lot of trust in our equipment," explains Robert Jett, Senior Project Manager at Jett's Slip Repair & Contracting.
Terramac tracked carriers are ideal for slip repairs because they offer the low ground pressure and traction needed to safely climb rugged and steep terrain. Prior to becoming acquainted with track trucks, Jett's Slip Repair & Contracting used a winch system to hoist and prop equipment along the steep slopes. "We rented some RT14R's for our last project and they drastically improved our efficiency, cutting our time in half by allowing us to safely drive up and down the inclines without getting stuck, all while transporting the dirt fill," reveals Jett. The weight distribution on the Terramac's is also advantageous because it prevents ruts that often get left behind when using wheeled articulated trucks. "We're out here to fix a problem (slope failure) so it's great when we can use Terramac's track trucks that won't rut things up, creating more problems," admits Jett.
Jett's Slip Repair & Contracting's most recent slip remediation site was small, coming in at approximately 100-ft. x 200-ft. wide and 12-ft. deep. The tight quarters combined with the rugged terrain made the area difficult to access for most equipment. The RT14R carriers are equipped with 360-degree rotation which aided in their performance on this project. "The rotation of the RT14R's is one of the greatest features on these carriers because once we had the tracks positioned on the narrow path we were able to accomplish every task by only rotating the chassis without turning the tracks," expressed Jett. RT14R track trucks are designed for narrow applications and the rotation allows operators to maintain a face-forward position at all times increasing safety and improving efficiency.
Along with using Terramac's RT14R models, Jett's Slip Repair & Contracting owns a Terramac RT9 carrier for routine day-to-day work such as hauling straw and materials. "Terramac's have the greatest design I've ever seen on a tracked carrier which is why we keep using them. We've got another challenging project on the horizon and it's almost guaranteed that we'll be renting those RT14R's again," exclaims Jett.