Let's face it, pipelines span around the world which more often than not requires crews and equipment to reach remote locations, and having the most versatile and reliable equipment to do so is a must. Terramac built the RT9 crawler carrier to do exactly that! We've dissected each aspect of the pipeline process, and found the finest support equipment to pair with the RT9 to help you every step of the way.
Welding Made Easy
T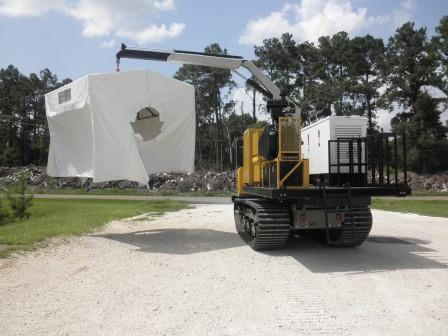 he pipeline tac welder unit was designed with your welding crews in mind. Say goodbye to the days of hauling your welding equipment, air tools, power sources and enclosures on separate trucks. This specialized unit provides everything you need to safely and efficiently weld pipelines on one piece of equipment. The generator alone is capable of powering up to four welders, welding deck, and a compressor with air tools.
Another feature is that the tac welder unit is capable of holding a canopy on a knuckle boom crane to protect workers from the effects of the sun's rays. Since welds on the pipeline undergo extreme safety measures including x-ray and ultrasound testing it is extremely important that the welders can see clearly to get their job done. According to Terramac sales representative, Jesse Whittaker, "the sun's rays can cause extreme glare on welding masks which hinder a welder's vision." The canopy feature is able to block the sun and prevent those unwanted glares.
Despite potential adverse ground conditions the extremely low ground pressure of the Terramac RT9 will get you were you need to go. Fully loaded, the Terramac RT9 crawler carrier exerts just 5.1 psi which allows the RT9 to conquer all types of terrain without damaging the environment.
To learn more about the detailed specifications view the spec sheet of Terramac tac welder unit, or give us a call at 630.365.1649.