Terramac is pleased to announce the addition of Linder Equipment Co. to their expansive dealer network. Linder will now serve Florida, North Carolina and South Carolina offering crawler carrier sales, rentals, service and support. Linder comes to us with over sixty-two years of experience and one outstanding reputation for providing exceptional customer service, and are excited for this new opportunity. "Terramac carriers are quality products that will give us the ability to diversify our equipment offerings," says John Coughlin, President of Linder.
Linder is currently a leader of heavy equipment sales and rentals for a number of industries such as general construction, mining and utilities. Terramac crawler carriers will expand Linder's reach in both new industries as well as existing due to the versatility of the units. "Rubber tracked carriers are beneficial to our customers for their ability to conquer problematic terrain which keeps crews working, reduces downtime, and extends the scope of their capabilities on jobsites," says Coughlin. Linder will offer all three Terramac models at their branches which include the RT9, RT14 and RT14R.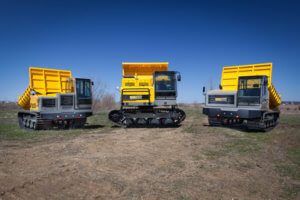 The RT9 and RT14 models will be obtainable through Linder with standard bed options such as dump beds, rock beds or flat beds, but may also be customized for specialty support equipment for various industries. The unique chassis design of these two carriers allows them to be customized with cranes, generators, tanks, and more to accommodate customer's specific jobsite needs. The latest RT14R 360 degree rotating model is also filling a gap in Linder's equipment lineup since rotating rubber tracked carriers have been unattainable the last few years due to previous manufacturers discontinuing production. "We see a lot of advantages to having a rotating carrier back in our equipment offerings. The RT14R rubber tracked rotator allows easier access to restricted spaces and reduces cycle times for operators," adds Coughlin.
Linder staff completed an all-encompassing training on Terramac products after accepting the offer to join their rapidly growing dealer network. "Our team is fully prepared and equipped to handle all Terramac crawler carrier sales, rental, parts and service support starting now," exclaims Coughlin. Terramac crawler carriers are North American made which makes it much easier to ensure timely customer service and delivery of parts which both parties agree, is a top priority.
For more information on Linder's Terramac carrier lineup, please visit the Linder Industrial Machinery Co. website or give us a call at 630.365.4800.