A female operator isn't something you'll see every day on the jobsite. Therefore, when we come across a female operating a Terramac, we're compelled to learn more about their role and understand their perspective on crawler carrier operation. Krista Philemon is a female operator at C D Philemon and was first noticed operating a Terramac RT14R carrier on a land clearing project in North Carolina. During our visit Krista proved to be highly enthusiastic about her career and was passionate about sharing her success utilizing the Terramac.
Like many women that enter the heavy equipment field, Krista spent a lifetime surrounded by heavy equipment before deciding to enter the field. Her dad is the owner of C D Philemon so there was a high level of exposure to the heavy equipment industry from a very young age. "I accepted an offer to work for my dad for one summer and he began teaching me how to operate a dozer. I caught onto this quickly and learned I really enjoyed the job. When the summer ended I never stopped and made the decision to fully commit to equipment operation and pursue it as a career," says Krista.
Just three years into her operator career, Krista has mastered everything from skid steers and dozers to track hoes and off-road trucks, but her favorite equipment feat to date has been the RT14R for its rotational feature.
"The Terramac RT14R was awesome! It was such a handy piece of equipment with controls that were simple to learn making it easy to operate," says Krista.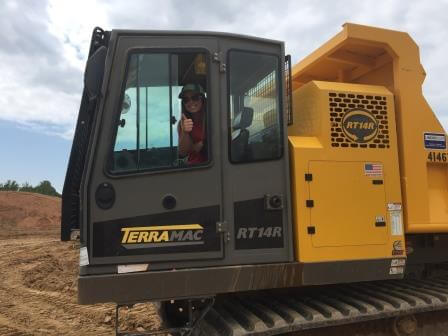 The land clearing project Krista was working on required the use of the RT14R for the development of a walking path through the woods. The path itself was extremely narrow to minimize damage to the surrounding landscape and left no room for turning equipment around. "At one point, we had another crawler carrier on the jobsite that didn't rotate and we sent it back. With a pathway as narrow as this one was, we relied heavily on the rotation and preferred the RT14R for it," adds Krista. In the past, C D Philemon has used wheeled off-road trucks to tackle projects such as this. However, these would frequently get stuck in the mud, especially if the ground was wet. "It poured for a portion of this project and with the RT14R I was able to keep working while all the other equipment on site was down," claims Krista.
C D Philemon's project proved to be a fantastic example of how the Terramac RT14R can be used for improving efficiency on land clearing projects. "Now that I've operated and experienced first-hand how Terramac crawler carriers handle in off-road terrain and inclement weather I'm excited to use it again on future projects," states Krista.
Do you know a female equipment operator utilizing Terramac crawler carriers? If so, we would love to hear from you. Contact Terramac at 630.365.4800 to share your experience with us. For more details on the Terramac RT14R, click here.