Two Terramac RT9 crawler carriers spent a little over 6 months working on a major construction project in the heart of downtown Chicago – Maggie Daley Park, and their presence on the job site grabbed some major attention!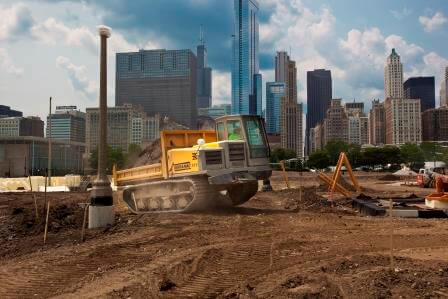 Grading and Excavation Contractor, a trade publication reaching over 29,000 professionals within the grading, excavating and earthmoving industries just published a full project profile uncovering the construction and development of Maggie Daley Park. The timing is perfect since the official dedication of the park will be taking place this month.
Project Profile
If you're not already familiar with the project, Maggie Daley Park is a multi-million dollar construction project that took place along Chicago's lakefront, one of America's largest tourist spots, and due to the complexity of the project taking hold on top of a parking garage; it required some state of the art technology. This project profile highlights that technology, specifically, Terramac's innovative crawler carrier equipment as well as the use of modernistic geofoam application processes in the construction industry.
Whether you are in the trade seeking to stay up to date with equipment applicable to your profession or just an everyday architectural enthusiast, you won't want to miss this. Click here for the full Maggie Daley Park project profile, and learn how cutting-edge parks in today's society get built with our top-of-the-line Terramac crawler carriers.
If you would like additional information on Terramac crawler carriers, contact us at 630.365.4800 or find a dealer near you today. You can also like us on Facebook or Twitter to be the first to see Terramac news and stay up to date on unique projects like this one.