One of the greatest selling points of the Terramac RT9 has always been its ability to be customized to meet various market needs. In fact, since the creation of Terramac that is exactly what we've set out to do – show the world our ability to customize our crawler carriers like never seen before. While we've set the pace for numerous industries by introducing new attachment features that get track mounted to the RT9 carrier, it is now time to share with you some of the creations our customers have brought to life.
Seed & Fertilizer Spreader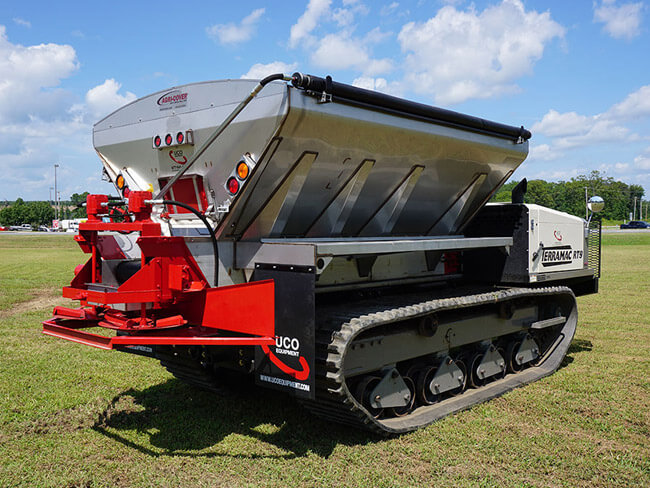 The seed and fertilizer spreader attachment was first joined with the Terramac RT9 crawler carrier by UCO Equipment in Arkansas. It was discovered that pipeline contractors were receiving increased workloads in environmentally sensitive areas where use of rubber tracked units was required. As part of the pipeline reclamation process, contractor's needed a way to seed and fertilize the land without damaging the freshly laid dirt. Using the rubber tracked Terramac RT9 with the fertilizer was the exact solution.
Straw Blower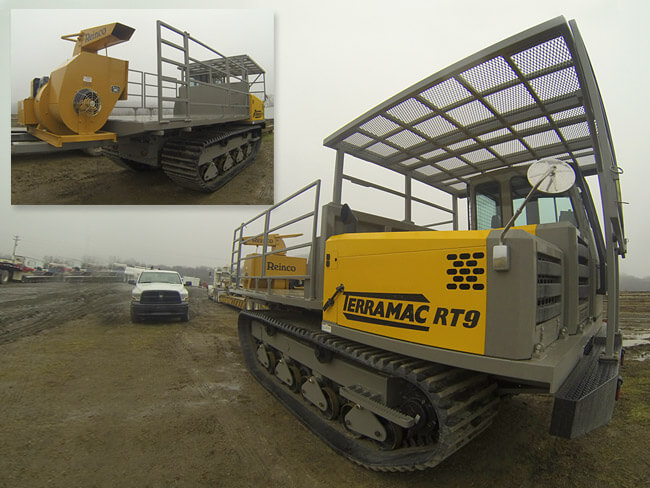 Groff Tractor, a Terramac dealer, had another idea for one of their RT9 units. They discovered a high demand for a rubber tracked straw blower which required a slightly modified bed for installation. Terramac was able to accommodate Groff with a modified bed straight from the production line which enabled Groff the ability to install their straw blower attachment with ease upon its arrival.
Vacuum Excavator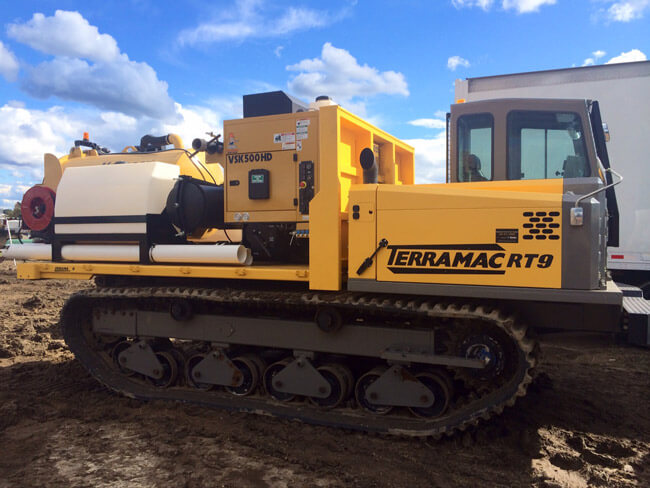 Terramac dealer, Vermeer Texas-Louisiana opted to promote their line of vacuum excavator attachments by providing customers increased versatility with track mounted vac units. Since Vermeer Texas-Louisiana already had existing inventory of brand name vacuum excavators such as McLaughlin and Vactron, they merely needed a high quality rubber track carrier capable of a speedy and simple conversion. When Vermeer Texas-Louisiana discovered the Terramac brand crawler carrier, they not only purchased units, but turned themselves into a Terramac dealer to stay on the forefront of innovative rubber tracked technology.
Why Customize?
Not all Terramac customers opt to customize their RT9 units with attachments from the get go. However, in touching base with our customers we have discovered that quite a few have gone on to use attachment features after-the-fact. Why would a customer switch after the fact? The answer is simple – the brilliant design of the Terramac RT9's bolt on and bolt off attachment system has simplified the interchangeability of attachment features. As a customer's needs change their equipment can too, and it's easy to do!
Do you have a specialty attachment that you need track mounted or have an innovative idea for one? Do you want to see more customization options or creations? Continue browsing the Terramac site or give us a call today at 630.365.4800 to discuss what the Terramac RT9 carrier can do for you. If you've already mounted a specialty attachment to your Terramac we would love to hear about!