St. Joe State Park which is located in Park Hills, Missouri is home 2,000 acres of trails for off-road vehicle use, and has numerous other attractions including: lakes, swimming beaches, an equestrian trail, picnic sites, and campgrounds. What many of the visitors to this fun filled park don't know is that about 15% of the park is built on reclaimed mine land that was donated to the state back in 1976. While the reclaimed land makes for excellent recreational grounds there are special maintenance requirements the State of Missouri is required to abide by for both the safety of its guests as well as the ecological land conditioning.
Tailings Dust to Sand Flats
The sand flats at St. Joe are a distinctive part of the overall landscape of the park, and their existence is the result of the mining processes that took place on the land more than a century ago. The remnants of tailings dust have undergone treatment over the years in order to meet strict land reclamation laws which promote restoration. The tailings at St. Joe State Park have been fully restored to safe sand like residue, now called sand flats. These sand flats now make up a good portion of the beloved off-road vehicle track in Missouri, and brings in thousands of tourists each year.
Park Maintenance
While the land at St. Joe State Park has been reclaimed for recreational use, it still requires the use of specialized equipment to perform regular maintenance on the grounds. Wheeled vehicles simply can't travel across the sand flats without getting stuck so the State of Missouri has purchased a low ground pressure, Terramac Crawler Carrier to get the job done. The Terramac carriers are built for rugged, soft or uneven terrain, and therefore have no issues overcoming the sand flats. In fact, these carriers will even continue working through all sorts of weather conditions.
The State of Missouri will start utilizing the Terramac crawler carrier for hauling rock, dirt and sand throughout the park and off-road tracks so if you're in the area keep your eyes peeled. You may just get the opportunity to see the Terramac in action, and if you do – we would love to see your photos!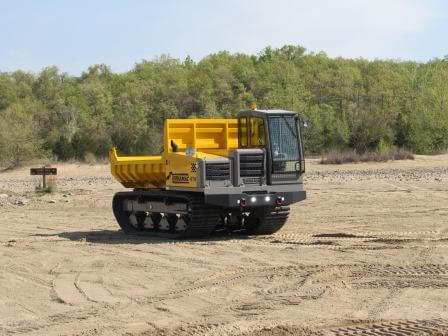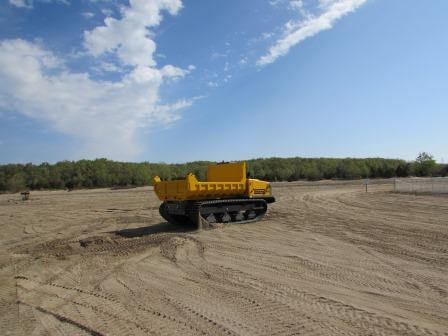 If you've got an up-and-coming mine reclamation project or need to maintain reclaimed land, give Terramac a call at 630.365.4800 and learn about the specialty crawler carriers we can offer you to get the job done.