Terramac emphasizes the importance of ongoing training and education to ensure we're providing customers with superior crawler carrier support. Last month Terramac brought our team of Regional Sales Managers from around the country to our headquarters in Elburn, Illinois for supplementary product training. This training was concentrated on new product changes that resulted from our transition to Tier 4 engines as well as a review of product enhancements that came to fruition from our collection of customer feedback.
"As an innovator in the crawler carrier industry we're always enhancing our crawler carriers to both improve efficiencies and improve customer experience," states Tim Klaus, Director of Engineering and Product Development.
What sets Terramac apart from the competition is our support. It is routine for Terramac Sales Managers to be in the field interacting with end users and dealers so their enhanced product knowledge becomes crucial to our overall success.
"Engaging our team with advanced training provides technical and mechanical knowledge bringing our carrier support to a new level," notes Matt Slater, Director of Sales.
Training opportunities such as this also help Terramac deliver development updates to customers and dealers faster while encouraging internal team building.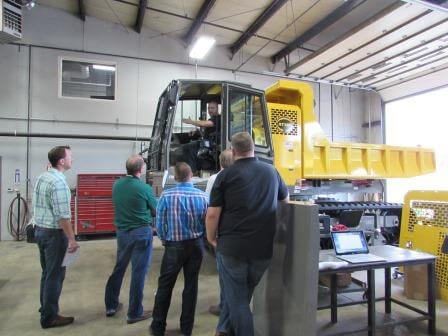 For more information on recent Tier 4 changes, product development or carrier training opportunities please find a dealer near you or give us a call at 630-365-4800 to get in touch with your Regional Sales Manager.