Terramac is proud to announce that C.N. Wood is an authorized dealer of Terramac crawler carriers offering sales and rentals to Massachusetts and Rhode Island.
As a family owned business, C.N. Wood takes pride in providing quality equipment along with exceptional service to their customers. "When choosing new products we aim to align ourselves with top manufacturers capable of providing our customers with equipment that adds value or offers a competitive edge," says Jim Maxwell, General Manager at C.N. Wood. The combination of Terramac's credentials and the rising interest for low ground pressure carriers, made picking up the Terramac line highly advantageous to both C.N. Wood and their customers.
Terramac crawler carriers will promote increased accessibility for reaching rough and remote jobsite locations containing slick, muddy or wet terrains in C.N. Wood's territory. This is especially important for agriculture, general construction, utility and environmental industries C.N. Wood serves. "The Terramac line is stirring up new market opportunities by offering rubber tracked carriers with limitless options for job specific applications," states Maxwell. By design, Terramac's are built for extreme customizations, and serve as mobile platforms for various attachments including: dump or flat beds, hydroseeders, cranes, digger derricks and more. The ability to interchange attachments and narrow in on customer needs will expand C.N. Wood's rental fleet offerings as well as enhance overall customer service.
C.N. Wood has already seen first-hand success with Terramac carriers while renting out an RT9 for material hauling, and is beyond excited to begin offering the latest model, the Terramac RT14R to customers. "We had the opportunity to demo the RT14R during its travelling Tow and Show launch last year, and there is no doubt it is a quality built machine," Maxwell assures. The 360 degree rotation of the RT14R reduces cycle times for material hauling, is one of the very few rotating crawler carriers available at the present time, and fulfills a longtime void in the equipment world. C.N. Wood will carry all Terramac carrier models including: RT9, RT14 and RT14R as well as provide rentals, service, parts and support.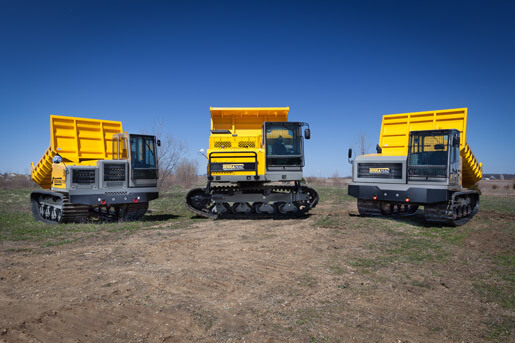 For more information on C.N. Wood or to become a Terramac dealer, please give us a call at 630.365.4800.