Low ground pressure Terramac RT14R crawler carriers minimize environmental impact
When working in eco-sensitive areas, such as a recent jobsite near Waterford, Maine, contractor BluRoc, LLC strives to minimize its environmental impact. In this densely wooded area, the company utilized three Terramac RT14R crawler carriers to reduce its impact when installing work pads for transmission pole structures.
The Hadley, Mass., firm has been impressed with the crawler carriers' ability to handle various working conditions without damaging the ground.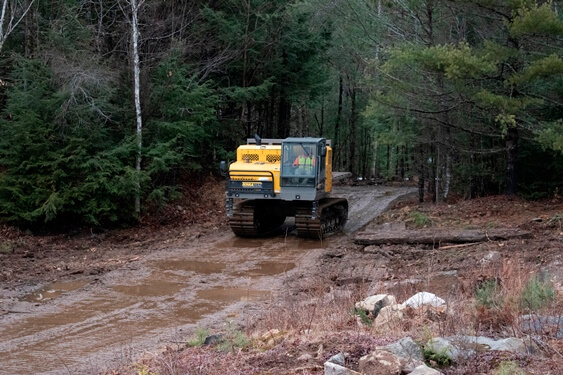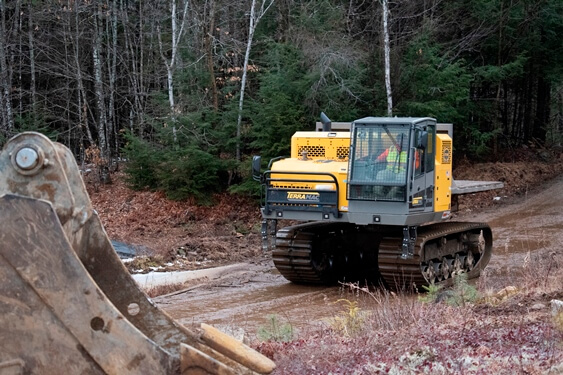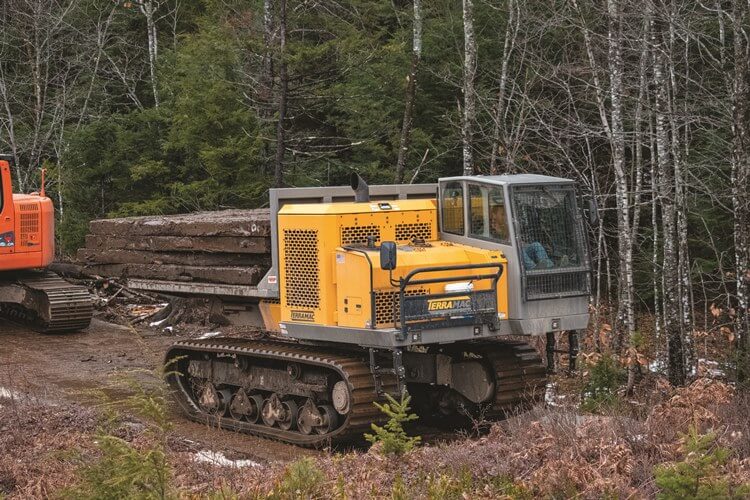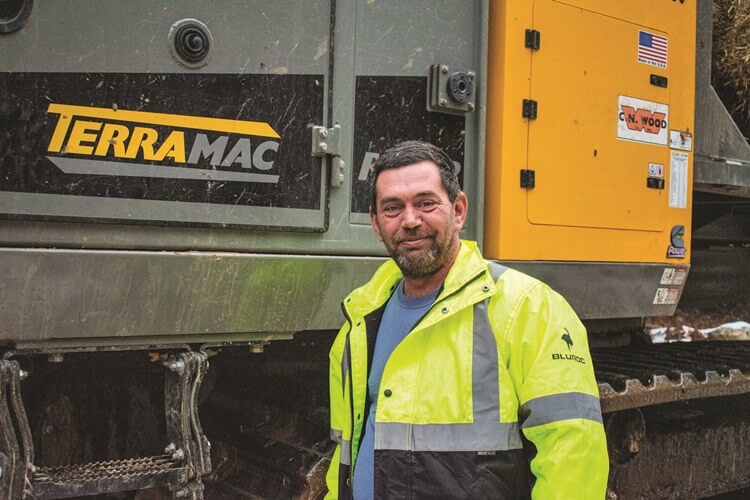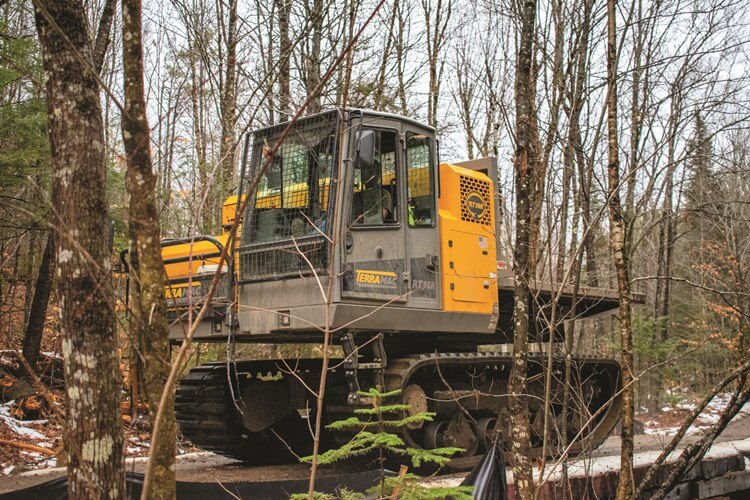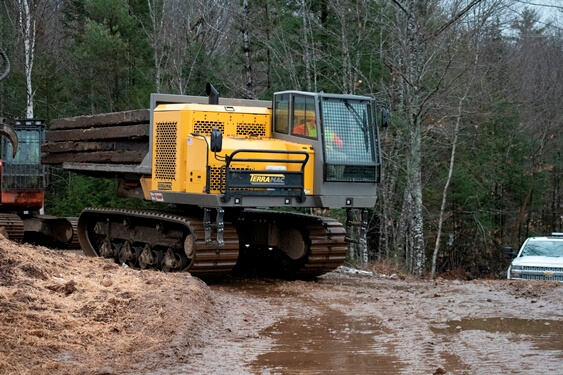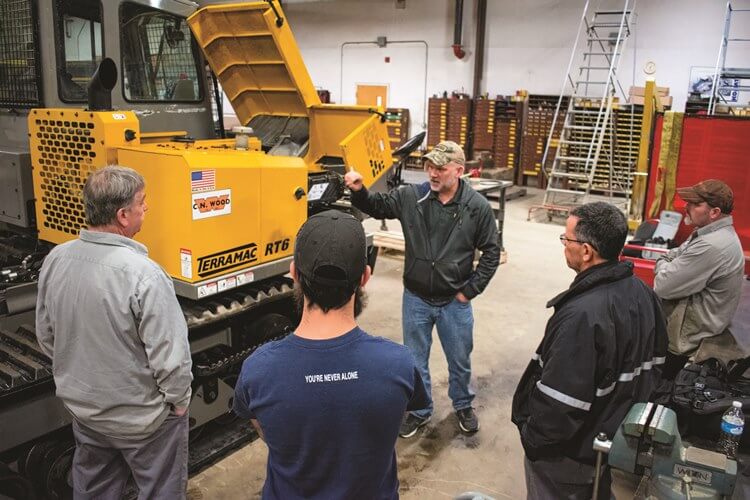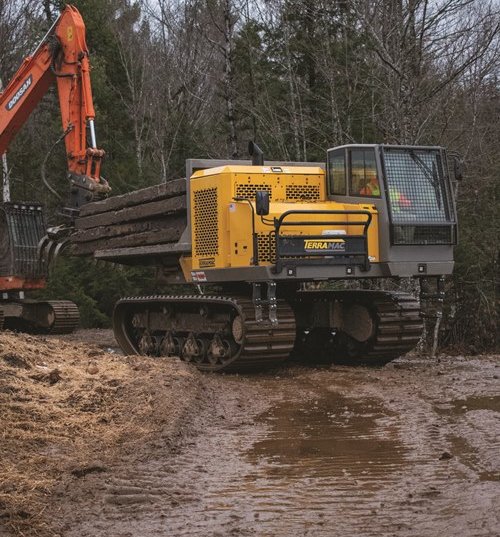 "This project is environmentally sensitive, which means we can't make ruts or tear up the ground," explained Operator Reggie Gordon. "We've run the machines in adverse weather conditions. They'll blast through any mud, but the key is not to make mud. The Terramac units float over the ground pretty well because they have low ground pressure, which makes them a highly valuable tool on the jobsite."
The Terramac RT14R crawler carrier offers a loaded ground pressure of 8.3 PSI when carrying up to 28,000 pounds. For BluRoc, this means the machine can move material efficiently through wet and hilly conditions without worrying about slipping.
"We've been in some gnarly situations building these pads and never had an issue," noted Gordon. "We haul 10-12 mats at a time, and these machines have all the power that I need. Track-wise, I can climb any hill while still moving good sized loads throughout the jobsite."
The RT14R offers 360-degree rotation, allowing an operator to swing the bed around for easy loading and unloading.
"The rotation makes the job smoother and more efficient because I'm not rotating my tracks to get in and out of the unloading position, which tears up the ground," said Gordon. "There's lots of power on the spin, and it's nice and smooth without any lurching."
Rear and side cameras provide the operator with a full view of the machine's surroundings on the monitor display in the cab. The interior is also equipped with several additional amenities for operator comfort.
"I have 30-plus years operating equipment, and the cab of the Terramac has the most room I've ever had in a machine like this," stated Gordon. "It has a great heater, radio and overall operator comfort."
Daily maintenance routines are simplified with access points located in easy-to-reach positions.
"When Terramac designed this machine, they really came up with good ideas because it's simple to do a daily maintenance check," explained Gordon. "The fuel tank is in front, all the filters are handy, the DEF tank is easy to access and the motor oil and more are right there once I climb the steps. It's very straightforward.
"Terramac surpasses all of the competitors," continued Gordon. "It's the best that I've run."