Terramac RT14R crawler carriers boost productivity at Gulf Coast shoreline protection project
Indian Point Park in Portland, Texas, is a popular recreation spot along the Gulf Coast. Located just north of Corpus Christi, it's known as a good fishing spot, both near the shore and off Indian Point Pier. The park is also an attractive place for birdwatching and other activities.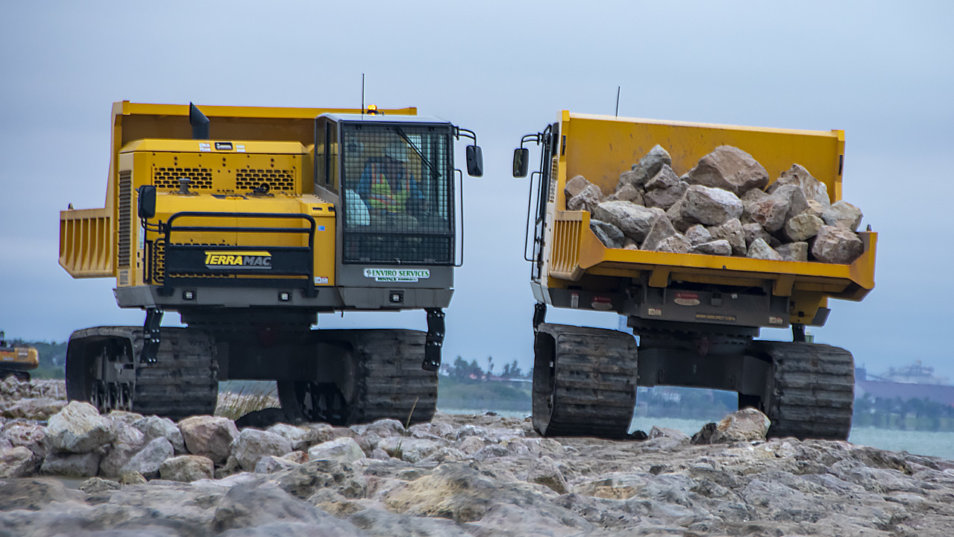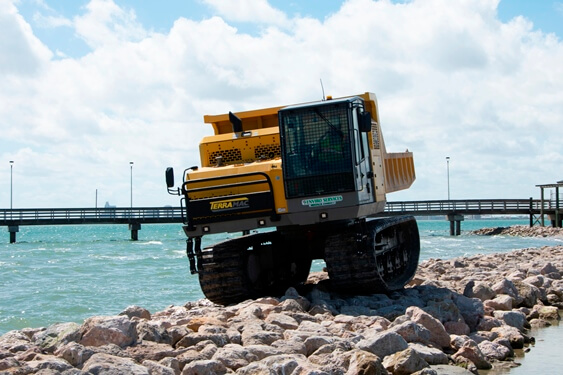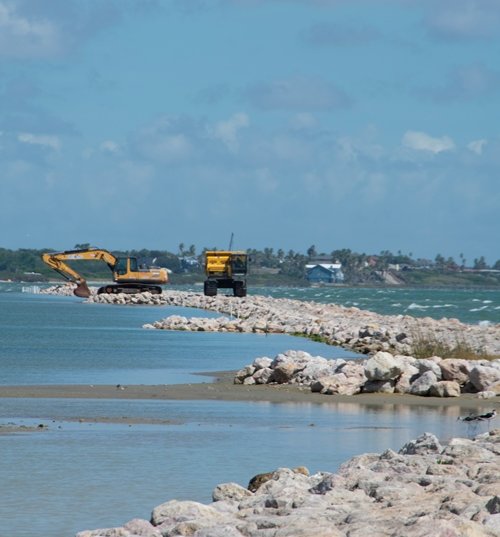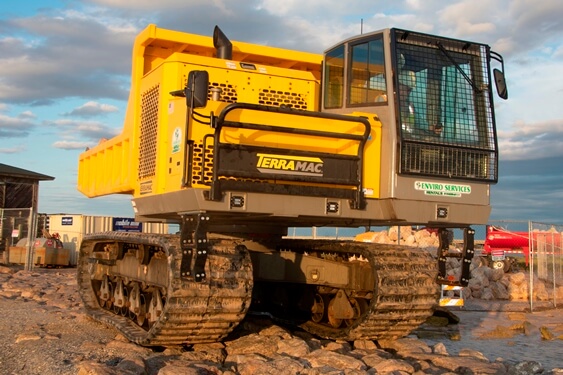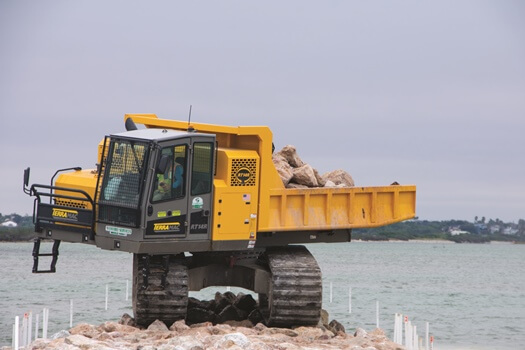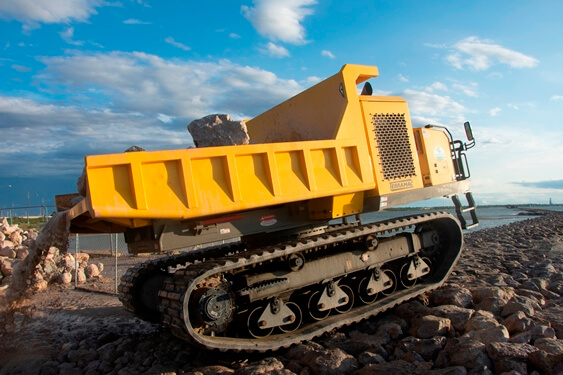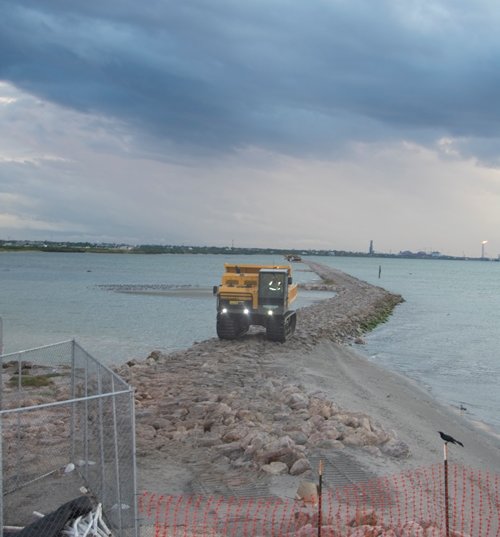 Shoreline protection to stop erosion and enhance the wildlife area is a priority at this coastal location. The primary means to accomplish those goals is constructing breakwaters. APOLLO® Environmental Strategies, based in Beaumont, Texas, recently built such a structure that's nearly 1,800-feet long using approximately 9,000 tons of limestone riprap.
Initially, the APOLLO crew used a wheel loader to move the large stones from stockpile to the breakwater. Vice President Tim Elms said that this process worked; however, it was inefficient.
"It was extremely slow; you can't put much quantity in a wheel loader bucket," stated Elms. "Additionally, the breakwater is quite narrow, so the loader could not be turned around. Once the operator dumped, he had to back up all the way to the stockpile. We needed something that could go faster, had greater durability and hauled more material at once."
Elms had previously contacted the local Terramac dealer, Enviro Services, and its Sales/Rentals Representative Troy Starr about renting some crawler carriers for a future project. Now, he inquired about putting Terramac units into service at Indian Point. In short order, APOLLO Environmental Strategies had two, 28,000-pound- carrying-capacity RT14Rs with 360-degree rotating beds on this jobsite.
"They increased our production about five times compared to using a wheel loader alone," shared Elms. "We could haul six to eight tons per load, where before we were getting two to three at most. The size of the Terramacs allows for easy loading, and the rubber tracks make for a smoother ride along the rocky terrain."
Once loaded, APOLLO Environmental Strategies' operators drove the RT14Rs from the stockpile to the end of the breakwater where they rotated the beds to dump before making the return trip. The crew built a couple of small areas so that when the two carriers were running along the structure at the same time, the operator with the empty unit could pull off and wait for the loaded Terramac to pass.
"The ability to drive out and back without turning around, really sped up the process," Elms emphasized. "The capability to dump at any angle was a great advantage, too. We didn't need to take time to position a truck."
Elms noted that another advantage of the Terramac crawler carriers is the ease of operation.
"The Terramacs are very user-friendly, so our operators quickly learned how to use them and were productive right away," said Elms. "There are two controls for drive and turn, as well as a touch screen with machine information. I have operated similar machines, and these are the best in my opinion. We call them the Cadillacs of crawler carriers."
Elms added that APOLLO Environmental Strategies is planning to use Terramac equipment on future projects.
"Our work at Indian Point convinced us that the Terramac crawler carriers are the right choice for some of the applications we find ourselves in," Elms noted. "We used a pair on this project, and we have other jobs in mind that might need three or four."