It's only been 18 months since production began on the Terramac RT9 carrier, and its one hundredth unit is officially ready to go to work!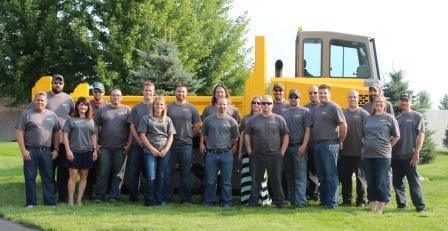 After designing the Terramac RT9 we didn't waste any time getting our units out on the job site for a variety of markets. In the last 18 months, the Terramac RT9 has been on display at over a dozen tradeshows, including ConExpo in Las Vegas. The machine has also been customized to fit over 15 different industry specific applications and has been picked up by 7 dealers across the US and Canada. We knew we had a ground breaking piece of equipment, but never would have guessed our mission for customers to "Discover the Difference" would intrigue so many so fast.
Each of the 100 Terramac RT9's at work right now are pushing boundaries and taking our customer's further than they've gone before. The RT9's rubber tracks and low ground pressure allow the unit to cover all types of ground and adverse weather conditions that would put most companies down and out. The RT9 units sold to date are doing everything from suppressing tailings dust on mines to holding welding equipment for oil & gas pipelines to laying dirt in environmentally sensitive areas for general construction. There isn't much that the RT9 or Terramac owner, Mike Crimaldi won't try with this innovative crawler carrier.
What the Future Holds
Already being at the point where we're shipping the 100th Terramac unit is a commendable milestone for Terramac, and we are excited for many more to come. In the next year, you can expect to see the number of new attachment features along with an increased number of dealers in your local area. We've proven to have built the crawler carrier versatile enough to meet your every need, and now it is our goal to make the Terramac accessible to you from your own backyard.
If you would like to get your hands on a Terramac RT9 crawler carrier, give us a call today at 630.365.4800.