Sometimes it is the slightest or smallest change that can make a big difference, and that is exactly what the tilt hood is doing for crawler carriers. So what brand is using this new innovative feature?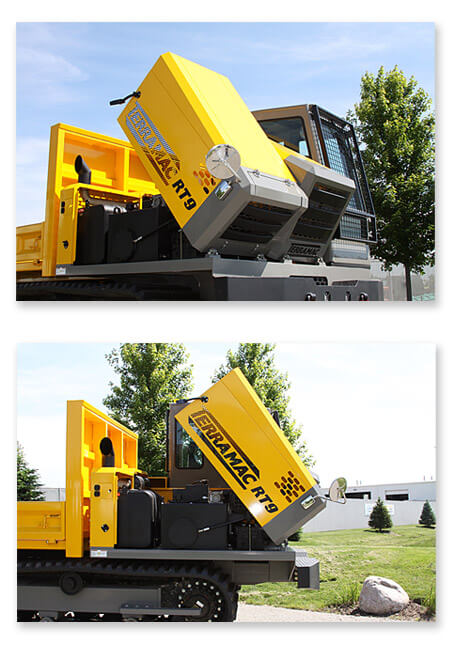 Terramac!
Mike Crimaldi, the owner of Terramac spent a lifetime working with crawler carriers. Between running his own companies and his hands on experience in the geotechnical and environmental drilling industry he was able to scope out the pros and cons of each brand's leading crawler carrier. One of the largest complaints he received by end users and his own shop team was the difficulty of engine and mechanical repairs.
The Trouble with Other Brands
Repairs on existing units were nearly impossible to execute without having to crawl on top of the crawler carrier and reach through a small square opening, or worse, removing the entire hood to reach the problem. Mike saw the safety risks involved as well as the time wasted by mechanics, and decided to make his own crawler carrier unit. This unit became the Terramac RT9 and featured the tilt hood.
The Tilt Hood
The tilt hood feature allows the entire hood to do just that, tilt forward similar to that of a truck. With the tilt hood, mechanics have better visibility of the engine and other key components, and can get to all major problem areas with ease. Additionally, this has increased safety for the crawler carrier industry because mechanics are no longer climbing all over units to reach the necessary repairs.
It all sounds so simple and yet it had never been done until now. So my question for you, the reader, is why do you think it took so long to combine the already existing tilt hood with a crawler carrier? I'd love to hear your thoughts.