Construction Equipment Distribution (CED) Magazine recently published an article on Terramac Crawler Carriers which focused on their place in the oil and gas industry. The article titled, "Terramac Takes Crawler Carrier Market by Storm" talks about the creation of Terramac, the advancements the Terramac RT9 has made to the rubber track carrier market, and its customization features. The information provided was compiled by author, Joanne Costin through direct interviews with Matt Slater, Director of Sales at Terramac and Jeff Hood, Regional Sales Director at Groff Tractor, Terramac's dealer in Pennsylvania and Ohio.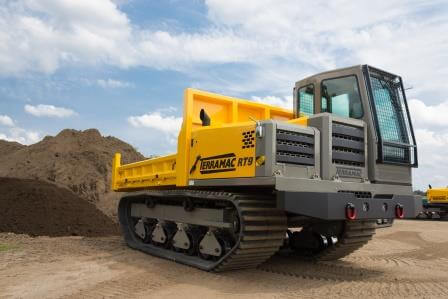 Article In A Snapshot
Rubber track crawler carriers are not an entirely new entity in the heavy equipment world, but within the last fifteen years, these units have begun to display themselves on more job sites than ever before.  Above all else, this article notes that Terramac crawler carriers may have been making the most influential strides in the market because their unit has been built around the support and services needed by end users. The Terramac RT9 has a larger carrying capacity than others in the same size bracket, and even contains additional safety features protecting end users on the job.
The fact that the Terramac is a North American built crawler carrier only adds to the unit's appeal by making parts ordering and repair simplistic. Compared to other heavy equipment vehicles used for pipeline work, rubber track crawler carriers have the most room for growth in the industry because they offer an alternative way to deal with extreme and/or wet conditions. According to the article, between new attachment features consistently popping up and the Terramac's ability to support them with ease, the RT9 is the ideal unit for rental fleets around the world to have on hand. It's been said that Terramac units make for excellent rental equipment because it offers customers the ability to accept far more job opportunities than they have been able to in the past without such a versatile unit available.
To read the full article from CED Magazine featuring our Terramac rubber track crawler carrier, click here. You'll gain top-notch information from those that have already chosen to discover the difference!
Need information now? Give Terramac a call at 630.365.4800 or get in touch with a Terramac sales representative near you.